Sam's Club Membership Deal – Limited Time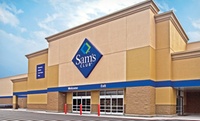 This Sam's Club membership package deal is available for a limited time, and only while supplies last. For $45 you get a one year membership, and they throw in a $20 Sam's Club gift card too! Plus you get more than $20 worth of free food vouchers.
The offer is for new members only, which is defined as someone who does not have a currently valid membership. Once you join Sam's Club you get members-only prices on electronics, home products and appliances, kids' stuff and toys, jewelry, furniture, and whatever the dickens else they sell – plus of course stock up on bulk groceries!
This is a national Sam's Club deal via Groupon, and once purchased you can start using the membership from November 13, 2013. Membership expires one year from the date the voucher is activated. Read all the fine print at the deal page for details. The offer is valid at all Sam's Club locations.
The free food vouchers included in the package are valued at $20.14, to redeem in exchange for an Artisan Fresh Rotisserie Chicken, a Main St. Bistro Scalloped Potatoes, and an Artisan Fresh 10" Pippin Apple Pie.
The offer only runs for a few days, and the quantity of deals available is probably capped. So if you're interested, go to the above links soon.
They reckon the entire $45 package is valued at $85, but that doesn't take into account any money you save while using the membership to get discount prices. It could be a great way to save on shopping as we head into the holiday season!
There are three Sam's Club locations in Albuquerque.
–Tania FYI I've given you my affiliate link to plug you straight to the deal.